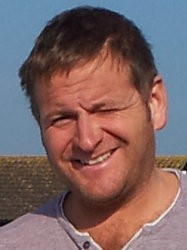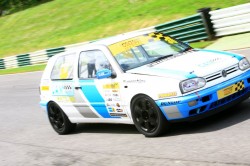 Name: Chris Adams
Age: 42
Hometown: Romford, Essex
Team: CAMtech
Occupation: London Cabbie/Train Technician
Car: VW Golf mk3 VR6
Class: Class B
Sponsors: Superpro, Superchips
Website:
Started racing in: 1995
Racing History: Started in 1995 in Vauxhall Nova sport in Castle Combe Saloons. Went on to do stock hatch in the Nova. Drove for a few seasons in the Super Coupe Cup in a Honda CRX and a Rover 216 GTi. Progressed on to VW Cup in its first year in 2000. Stayed with VW Cup for a few years. Had a break from racing for 3 years to concentrate on doing the knowledge to be a London cabbie. 2004 started racing again in Brit Car in a Synchro Motorsport Civic production BTCC car (awsome car!!) Built brand new Integra DC5 in 2005 and competed in Motorsport News Saloons for a few years winning several times. Partnered up and started doing longer races in the Honda in CSCC for around 4 years along with a season in VW Cup in 2008 in a mk5 Golf TDI 4 motion, with some mixed results! Started racing the Golf in 2009 again in the new VAG Trophy until 2014, when the series was canned! :( Now can be found in Classic VW Challenge in an old but fun VR6 and also racing the Honda in the BRSCC Vtec Challenge. Now getting great results in both series!! :)
Favourite track: Oulton Park
Other hobbies: Don't have time for other hobbies but I love spending time with my family and my doggies if I'm not racing or working!